The Princeton Senior Resource Center (PSRC) in Princeton, NJ has got it going on. 
This group has such a nice spirit and does so many things well, I am disappointed that my Mom doesn't live in New Jersey so she could take advantage of their senior-focused programs.  I get their newsletter, read their upcoming events, and I want to sign up for all their classes.
But that's not why I'm writing about PSRC today.
Here's some background.
In 2014, this group celebrated its 40th anniversary.  To honor the occasion, they held a gala for the first time ever.
They went from little understanding of galas (perhaps no understanding) to creating something wonderful.
I know you can appreciate the amount of work it took to pull that off.  
I've forgotten how they found me, but it didn't take long for us to get busy. Hours of talking and training webinars. Lots of photos. They pulled off every trick I teach about raising ROI in silent auctions, live auctions, Fund a Needs, audience development, raffles and more.  They learned registration … checkout … set-up .. timelines. They had honorees. They had top-end entertainment.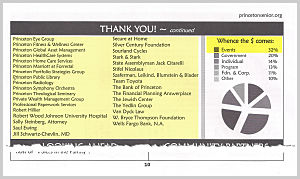 And all of it was meant to be a one-time deal.  A salute to the 40th, then back to normal.
On event night, the evening ran on schedule, had 100 more guests than originally expected (they sold out), and raised a lot more money than budgeted.  At several tables, water turned into wine — it was THAT good.
Knowing that it was a one-off event, I was more than a little surprised when they called me in 2015 to talk about another gala.  "But why," I asked, testing their resolve, "celebrating your 41st anniversary doesn't have the same punch."
"Everyone had so much fun. They want us to do it one more time," they said.
And so they did, tweaking a few things along the way.
I share this story because in last month's newsletter (December 2015), I noticed their acknowledgement of event sponsors. It's possible PSRC did this in Year #1 as well, and I just don't recall reading it.
This is an easy best practice, if you publish a newsletter.
Susan Hoskins, the Executive Director, always has a thoughtful message kicking off each issue.  Her December topic was gratitude. She thanked all the people and entities that contribute to PSRC, allowing the nonprofit to offer the types of services they do.  She even tied it into hardcore numbers: "Your support made possible … 1300 people attending weekly programs … 60 older adults or families receiving weekly support …" and so forth.
She explained that "sponsors and attendees at events provided 32% of the budget," and "for a full list of sponsors, please see p. 9 or go to our website."
Page 9 is the 2nd image I have attached in this post.
Page 10 is the 3rd image, which shows more sponsors and a pie chart visually depicting "whence the $ comes."
In short, consider thanking your event sponsors in a big way.  Most businesses would appreciate
public exposure

over

private accolades

.

Here are three ways to thank event sponsors publicly.
As PSRC did, use your newsletter. PSRC separated the list by annual sponsors, in-kind donations, and event/program sponsors.  Some groups list them by industry or by amounts given.  Mail a copy to your sponsors with a thank you note that points to their name. 
Publish the list of event sponsors in a local newspaper ad.  This might be impractical if your local paper is, say, The New York Times. But I have some clients in smaller communities who have told me, "Our paper does that for us — no problem!"  Running a full page ad thanking event sponsors is a wonderful way to give public kudos.
Give them props on relevant social media channels. I prefer Facebook over Twitter as you can be a bit more generous in the word count.  Include a photo of their business, logo, or product for an added touch.  Be sure to tag them so they are aware of your appreciation and can give social love back to you.
Want more help with event sponsors?
Before you thank your sponsors, you first need to have some sponsors.
If you need assistance with a sponsorship program:  securing event sponsors … keeping them … upselling them … pulling together a solid sponsorship program overall …  it's covered in this master class, Sold Out Sponsorships. 
You'll hear about creative sponsorship ideas from other nonprofit auctions and use the templates provided to reach out to companies.