Live auction … silent auction … training
Regardless of how we work together, you'll be thrilled – like these people.
You are an AWESOME auctioneer….

You have NO idea of how many people came up to me (I know Julie as well) and said, "That auctioneer was incredible…she engaged the crowd … she got the bidders to bid without being rude/pushing … I loved observing her, I just watched her … she did a great job."

It was very FUN to watch you in action!!! Thank you so much for offering us your time and talents.

Staci Meruvia, Gala Co-Chair 2013
Bishop O'Connell High School (Arlington, VA)
By instituting ideas I learned from Sherry's seminar, our auction result upped by about 100%.

Alison Hastings, Haverford School
Sherry, you did such an outstanding job last night at our Treasure Island-themed auction.

With your expert help, we blew past our $100,000 net revenue goal by more than $20,000 — and raised the most money in auction history for The Heights.

Rose and I kept looking at each other during the live auction and saying, "Wow, she's soooooo good!"

Thank you from the bottom of our black hearts!

M'Liz Riechers, Auction Co-Chair 2012
The Heights School (Potomac, MD)
On a 10-point scale ….
Wow, what an event!! We raised more money than ever, about $108,000!

You made such an impact on our group.

To quote Monica, my co-chair, "If Sherry organized a cult, I'd join."

Like most groups, we had fallen into a rut, doing things the same way, year after year. We were doing things that made all the sense in the world to us but didn't translate into dollars. When we decided to hire you as our auctioneer, we had some skeptics (you weren't cheap.)

In past years we always had an auctioneer donate his or her time to run our Live auction. Nice for our budget, however, they never had anything to offer except for "going once, twice, sold." You came with a boat full of ideas, enthusiasm, and charm.

You completely revamped our whole event. All those skeptics are now dedicated fans of yours. We even had some of our guests request your information for other events.

Now when people ask me about the success of our event I simply say, "hire an expert and listen to them." With the hard work of our committee and board and the guidance from you, we had our most successful gala ever. And, everyone had a blast!

Thank you so much for your support along the way. If ever we were challenged by something, we knew you were only a phone call away with a spectacular idea. Your knowledge of what would work and not work was spot on. I know that our event was not perfect, but it was successful and fun. We can work with you on perfection for next year, right?

Jennifer Harris, Auction Co-Chair 2009
YWCA Annapolis (Annapolis, MD)
This performing arts gala has ~180 guests. I saw this gentleman the next year at the gala, too. He said, "You can continue to use my testimonial. It still stands."
Thank you SO much for your many contributions to the seventh annual Arlington Community Foundation Gala.

Our enormous success this year – our best gala EVER – was due in no small part to your involvement.

Your initial presentation and consultations throughout the planning process were invaluable to my committee. And WOW did you ever light up the auction, working bidders to prices far beyond items stated values! Your detailed post-event report was thorough, well constructed and included some of the best pictures anyone took of the event spaces that night. It will provide a solid basis on which the Foundation can continue to grow this event.

Bottom line, Red Apple Auctions was a fabulous addition to our Gala. I give you my very highest personal commendation and would welcome the opportunity to speak with any potential clients should they ask for a reference.

Sherry Crittenden, Gala Chair 2008, 7th Annual Gala
Arlington Community Foundation (Arlington, VA)
For the first time EVER the Haverford School hired a professional charity auctioneer for our annual fundraising gala. Now we can't imagine doing it any other way. Sherry was absolutely awesome from the moment we first contacted her through the final wrap-up one week after the Gala was over. Despite the fact that we have been doing this for years, we learned so much from her.

By following her recommendations, we not only netted more from our event, we had a more professionally run and FUN event that has people enthused about next year.  Sherry infused our event with much needed new energy, new ideas and new ways to raise funds for our cause!

We MORE than got our money's worth with Red Apple Auctions.

P.S. the auctioneer assistants that Sherry brought with her to the event were superb and helped us exceed our goal for the raffle – an unexpected and added bonus.

Sue Ellen Cummins and Sara Jones Biden
Co-Chairs of the Haverford School 2012 Gala (Haverford, PA)
Fred stopped me as he was getting his car at the valet. He's been to commercial and benefit auctions, but liked this the best. I'll let him tell you why.
Aren't they a cute couple? KK and Michael stopped me to say a few words and talked about the 'fine line' I walked as an auctioneer. This private school auction had a guest count of around 400.
Kudos to Sherry Truhlar and Red Apple Auctions for helping us achieve success at our fundraising auction this year--including helping us to offer an event full of activities, games, and fun!

From the first face-to-face meeting, through the subsequent phone calls and email messages, Sherry offered a tremendous number of ideas--from ticket pricing to best auction items to look for to ideas for games and other activities.

At the event itself, Sherry's performance was a perfect mix of professional auctioneering techniques and down-to-earth rapport with the guests. I heard nothing but compliments from our guests.

In addition, I was blown away by the amount Sherry was able to raise through the special appeal, something we had never before included in our auction. I would never have thought our guests would have been so forthcoming after having purchased a ticket and perhaps bid on other items!

I am also convinced that our bottom line would not have been so great, had we not had the help of Red Apple Auctions.

Thanks Sherry, for helping us achieve success--and have such fun in the process!

Betty Heiney
West Nottingham Academy (Colora, MD)
Cheryl talks about how it might have been a woman's touch that made the auction better this year.
There's no more powerful combination than a worthy cause and Sherry Truhlar – I've seen her work at a number of charity auctions and by way of direct comparison, Sherry is, without a doubt, the best of the best.

She energizes the room and paces the evening just right – mixing humor and fun with the serious side of doing good by giving.

Sherry turns attendees into donors.

Richard Jacik, VP of CGI Federal, Inc.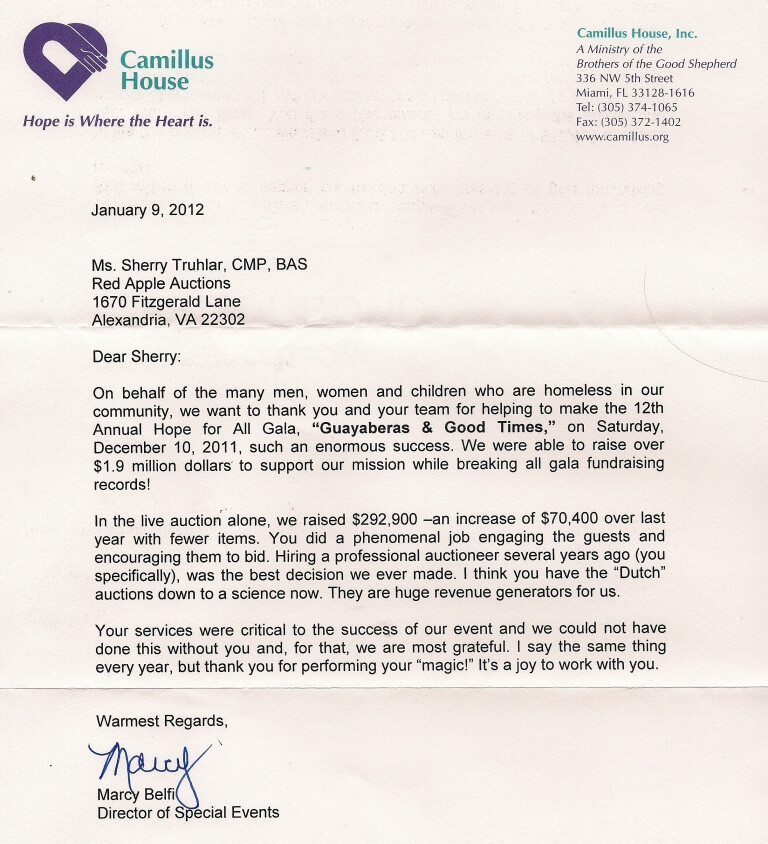 I wanted this year's Key School auction event to be the best yet, so I reached out to my contacts on LinkedIn to get recommendations for a top-notch charity/benefit auctioneer.

Sherry Truhlar and Red Apple Auctions came highly recommended by several sources.

From the start I felt that Sherry was the right choice for the school. She kept the auction co-chairs on track by helping them set deadlines, make decisions and stay calm. And, as a result, the event ran smoothly, the bidders were engaged, and we raised the bar considerably with a new fundraising record.

My advice for those thinking of hiring Sherry and her team at Red Apple Auctions.... go for it! If you're lucky enough to fit into her schedule, you'll be happy you went with the best.

Thomas H. Gimer, Esq.
Francis Scott Key Elementary (Washington, DC)
Thanks so much for your great work at our recent auction. You were outstanding!

Please let me know if you can confirm for September 8, 2012.

Best,
Jane Bowling-Wilson
Headwaters Foundation (Sperryville, VA)
Here's the notecard Jane sent.
Thank you for another incredible Chef's Best!

The auction was the highlight of my night and we truly appreciated yours, Bill's and your team's efforts and enthusiasm!

Can't wait to work together again.

Have a wonderful summer!

Stacy

I admit that I devoured these cookies she sent. This auction had experienced sliding revenue and apprehensive donors before we started working together. Over the last three years, revenue has steadily improved.
Thanks, Sherry, for the great job running our live auction, which exceeded our goal this year.

You're a rock star.

It's great how excited you get when you sell an item. I've been smiling about it all weekend.

Fred Diamond, DIAMOND Marketing (Live Auction Chair 2009)
Northern Virginia Family Services (Fairfax, VA)
Being our first year (2008) to have a professional auctioneer, we didn't want attendees at the dinner to feel like they were being coerced.

Sherry worked with us in advance to understand our needs and give us input on how to improve the auction.

On the night of the event, she was right on target. She made the auction fun for everyone and adapted well to our needs.

Brent McLaughlin, Executive Director
South Florida Urban Ministries (Miami, FL)
It's been two months since we held our Gala, and people are still talking about it!

Sherry and her team helped us to break all previous records, financially and otherwise for this annual fund raising event.

We can't thank her enough. We know we've worked with the BEST auctioneer bar none, and can't wait until next year!!

Lauri Zell and Franny Rock, 2008 Gala Co-chairs
Bullis School (Potomac, MD)
Red Apple Auction is more than professional: your ability to consult, inform and lead us above and beyond our goal was amazing.

You taught us so much and were easy to contact, day or evening.

Sherry, I cannot thank you enough for making our auction the best it has ever been.

Karen Virdinlia, Development Assistant
Children's Advocacy Center of Collier County (Naples, FL)
Sherry Truhlar was a real hit!

Her enthusiasm and energy captivated the audience. The ABB leadership team was fully engaged throughout both the silent and live auctions.

The positive feedback from the audience made it our best executive team event and more importantly, we doubled what we expected to raise for our first auction!

Phil Lloyd, SVP Human Resources
ABB North America (Raleigh, NC)
St. John the Evangelist offers a Fall Gala and Auction to the parish community every two years. It's a wonderful way to raise funds but also a fun way to celebrate with friends and family. We were asked to co-chair this year's event.

With this being our first-ever Gala to plan, the work seemed daunting. One of the first decisions we made was to hire a professional auctioneer.

Not only did we hope our fundraising would increase, but we knew from talk on the street that an auctioneer would add a whole new level of fun, and did it ever!

Based on several people's recommendations, we contacted Red Apple Auctions. Sherry met with the co-chairs and the committee and we quickly knew we were on the right track! Sherry's advice and guidance about promoting the event and trying new ideas was invaluable.

Our expectations were far exceeded: On the night of our Gala and Auction, we raised almost $20,000 more than ever before AND the crowd was held captive during the live auction by the lively banter of our auctioneer. He kept us on track throughout the silent auction by highlighting noteworthy items, but also by creating a sense of "now or never" for those trying to decide when or what to bid.

If your auction needs a "pick-me-up" or even just a change of pace or personality, we would highly recommend calling Red Apple. You won't be sorry!

Maureen Hathway and Kyra Lyons, Auction Co-Chairs 2010 (and 2012)
St. John the Evangelist School (Silver Spring, MD)
The Washington Performing Arts Society sent a nice thank you after the 2011 event.

From the Washington Performing Arts Society Gala 2011 team

(Click here and scroll down to watch footage from their large gala.)

Sherry, personally, I can't even begin to tell you the immense amount of positive feedback that I received having YOU (and Darby) there with is this year! Some of the tidbits:

You added EXCITEMENT and ENTERTAINMENT...
You added EXPERTISE and FUN...
You helped the evening FLOW, in a wonderful and positive direction...
You were FUN, and KNEW WHAT TO DO to get the job done with positive results...
You kept things rolling in a manner that made people want to continue to KEEP ON GIVING...
The auctioneer was, absolutely, a breath of fresh air and made the environment one for GIVING!

These are but a few that I committed to memory. Personally, I hope that this year was simply the FIRST year of a long association with you!

Anne Livaudais Knudsen, 5th year gala co-chair
Oakcrest School (McLean, VA)
(On right, photographed with 2nd year Gala Co-Chair Carolina Agostini)
As a long-time fundraiser, the bottom line is always what I think of first as to whether or not something was a success, but this time it was something more.

Along with the financial support, the energy in the room was excellent and much will be gained from that in the year ahead.

I am delighted with the outcomes. We had an outstanding team and everyone really worked hard to make the event a success.

Thank you for your invaluable contributions. We took your advice along the way, and were not disappointed. Bill did a terrific job, greatly enhanced the whole experience, and in general was a major "hit." We were delighted with the results.

Resa Levy, President
Montgomery County Family Justice Center Foundation (Rockville, MD)
Our national organization hosts two-to-three auctions a year throughout the country. Our largest and most profitable is our annual Gala Auction held in Washington, D.C. in October.

We have hosted this auction for years and utilized many other auctioneers, but never have received the turnout and the results as we had this year since choosing Sherry and Red Apple Auctions.

Sherry was terrific from the beginning until the end and her team was detail-oriented and fantastic to work with.

Our crowd loved Colonel Bill and even months after the auction, I still field calls from bidders saying that they had the best time - and our bottom line really reflects this enthusiasm.

My advice for those thinking of hiring Sherry and her team is to book your appointment right away because Sherry will blow you away with her passion, knowledge, experience and great ideas!

Alessia Dinkel, Development Manager
The National Italian American Foundation (Washington, DC)
Click here to read the nice thank you note she sent.
We heard so many compliments about you!

During the auction, the other guests seated at my table started whispering to me, asking me how they could book you for their own galas.

Barbara Cullen, 2007 Auction Co-Chair
Les Dames d'Escoffier, DC Chapter (Washington, DC)
While I don't yet know our bottom line, our revenues were up significantly (over 10%) above the prior year. The reverse auction was almost double and the live was up substantially.

So although the room cleared after the long running roasts ended, those that stayed were in the mood to bid and you did a great job of accommodating them.

Paul Hirshbiel, Chair of Gala Roast
Horizons Hampton Roads (Hampton Roads, VA)
Our event was awesome! We feel the night was incredible.

We surpassed our goals, and set a new standard for this school auction. It was time to take our event to the next level, and we got more than we thought possible.

It was a 30% net increase from the previous year.

We knew there was more money to be made than what we'd been raising.

We'd been using a professional auctioneer, but Red Apple Auctions showed us the difference between a benefit auctioneer and an auctioneer. I personally loved everything Red Apple gave to our event. We would have never had done as well as we did without you.

Shayna Neal, Auction Co-Chair 2008
Christ Church School (Fort Lauderdale, FL)
I'd been to benefit auctions before, but certainly hadn't chaired one. Our school had a lot of women who wanted to help in various capacities, but no one wanted to lead the charge. So I agreed to fill the Auction Chair role.

Red Apple Auctions had been referred to me because the Auction Chair two years ago used the company and set a new record in the process.

Several people had commented on Red Apple's professionalism and ideas, and they loved Sherry and the floor team who worked the event, so they urged me to hire them again.

When the company helped Shayna and Corrine two years ago, the school hit an all-time high of $108k.

And now this year, we hit an all time new record of nearly $147k! On auction night it was around $143k, but by the time the dust settled, it was at $147k.

Our school has never even come close to these figures. We just surpassed so many goals. Even my own personal goals.

Everyone was talking about the auction. They are still talking about the auction and it is over a month later! Even as I write this, I'm covered in goosebumps just thinking about how fabulous it was.

I get high-fives in the hallways. I can't believe it. People were so generous and it was phenomenal.

Everyone keeps saying how it wasn't just an auction ... it was a great party. And I did this without ever having chaired an auction before.

Prior to the event I appreciated how Red Apple Auctions was there for me every step of the way. Sherry was available to me always, and at our disposal as much as we needed her.

Her ideas were fresh and FUN! She helped us come up with new ideas on raising money and making the most of what we had.

Then – at the event – our crowd loved the auctioneer and the floor team, who were all again very personable and looked very professional and kept everything moving forward.

The biggest "ah-ha" I got out of this entire experience was watching Bill call during the live auction. I thought to myself this is what a professional auctioneer should sound like. He got the crowd motivated and excited. He was funny and entertaining.

The entire evening was a smashing success and it was largely due in part to Red Apple Auctions. Thank you, thank you, thank you!

Maria Castellano, 2010 Auction Chair
Christ Church School (Fort Lauderdale, FL)
For the 3rd consecutive year we had Red Apple Auctions help guide our church's silent and live auctions, and for the 3rd consecutive year they have helped us improve on the year before.... both in dollar amount AND in quality of the event.

Our event caters to a young, single adult church crowd who are working their first jobs, or are finishing up a graduate degree. With the economic downturn we went through this year, you could imagine how apprehensive our crowd would be.

Well, Red Apple was GREAT.

They were able to stress the value of charitable giving and donations in such a fun and positive way that our participants were happy to raise money for such a good cause.

We are looking forward to having Red Apple Auctions back next year and are ready to break more fundraising records!

Bryan Gauch, Service Committee Chair
Colonial 1st Ward, Church of Jesus Christ of Latter Day Saints (Alexandria, VA)
On behalf of our auction team, I wanted to thank you for meeting with us last night.

We enjoyed your talk on procurement and we are fired up and ready to go after your ideas.

This morning we got the PTA Chairs to approve the software agreement. I believe we can pay the full cost of the software with sponsorships.

Well, as of this morning we have two more sponsors for our auction webpage. I didn't even have any printed materials to show people—but they were willing to support our cause.

We are all ready to take this auction to the next level!

Maria Emanuel, Auction Co-Chair 2010
Key Elementary School (Washington, DC)
January 22, 2009

On behalf of the many men, women and children who are homeless in our community, we want to thank you and your team for helping to make the 9th Annual Hope for All Ball, "Guayaberas & Good Times," on Saturday, December 6, 2008 such a success.

We were able to raise over $1.2 million dollars to support our mission.

Although we've always had a very personable auctioneer who volunteered to conduct the live auction in the past, I wanted to take the gala in a different direction.

I decided to try a professional, so we hired Red Apple Auctions, incorporated some of your ideas, and ended up surpassing our auction revenue from 2006 by a wide margin. No one, especially me, expected a record-breaking year when economic news was so dismal!

But beyond hitting a new record, what stunned me the most during the live auction were the new bidders. Guests who had never bid in any prior event were some of my winning bidders.

To me, this indicated that maybe the advantage of using a professional auctioneer who ""as not "known" to my audience ensured our guests felt more comfortable bidding because you engaged everyone in the ballroom with your dynamic personality and they were all treated equally. Your team did such a great job of taking care of everyone on the floor with high energy and fun. You and your team were also very visible and active during the. Silent auction, which helped us exceed our goal for that segment.

As an event planner, I want each guest to feel special and they did. I believe this is why there was a different energy in the room because each person was a unique entity coming together from the common mission of supporting Camillus House.

I was pleasantly surprised with my post-event report from Red Apple Auctions. It was thorough and very detailed with great photos and information. Your consultations prior to the event were most helpful.

Camillus House does not want to hold another auction without you. Your services are critical to the success of our event and we hope to raise even more money and surpass our previous goal this December.

Once again, thank you for performing your "magic" and helping us to end chronic homelessness and create a better future for all who are served by Camillus House.

Kindest Regards,
Marcy Belfi, Director of Special Events
Camillus House (Miami, FL)
It looks like we did amazingly well. We grossed a bit over $84,700, a figure we are thrilled with!

In light of the economy and reduced numbers in attendance, I think the auction was a huge success. As always, your debriefing report is so thorough and so helpful. We were relieved and grateful to have done so well this year, especially since attendance was down.

I will let you know as soon as we've chosen a date for next year since we would love to have you back!

Dianne Straus, Executive Director 2009
Children's Chorus of Washington (Washington, DC)
August 6, 2010

Dear Sherry,

The money has been counted, and our first-ever Bite Nite raised $83,000! The money is great, but even more importantly – even weeks later – the good feelings and compliments keep rolling in (I'm going to share some of them in this letter).

Our event has done more than raise money; it's raised interest in our cause by positioning us in a positive light. Potential donors can't miss it; there's no mistaking that good things are happening here and they should get involved. I don't exactly know how to put a price on that yet, but I sense it's worth more than $83,000.

I'm not kidding when I say that here in the Phoenix area, a charity is hosting a fundraiser almost every night of the week, 12 months a year. We knew that our first-ever event had to be special to get attention. With your help, we nailed it.

One guest wrote, "Having attended at least six 'new to the market' gatherings I can say, without the slightest doubt, you have raised the bar and created a new gold standard." Another said, "This was the first year? Wow! We had a blast." Even one of the restaurant vendors commented, telling me he'd seen many silent auctions around town, but had never seen a silent auction run as well as ours.

As you know, our "new to the market" gala was structured to be an evening filled with lots of great restaurants and an entertaining band. We knew we'd include an auction and assumed we would handle it "in-house" until I saw your resources on LinkedIn. Although my team had planned, executed and attended many events with auctions, we aren't planning auctions day-in and day-out. We lack that insider expertise. And coming from a corporate background myself, I understood the idea of having a specialist "running the show." As I told you on the phone during our meetings, "Just tell us the best way to do it, and we'll execute." You knew what would work. And after getting our feet wet this year, we'll be prepared to tackle even more next year. You've set us up on a course for success.

Naturally, my team and I thought Bite Night was special. But it was all the continuing emails and phone calls that kept on coming that made us realize how unique it really was. Simply put, you made us look good and the flawless execution attracted new supporters (and remember, these are supporters who regularly attend competing events in our area).

"It was such a classy and well organized event, I really believe it was one of the best events ever," wrote one. "I have been to a few charitable events and have never experienced anything approaching the vibe of generosity and dedication to the cause that was obvious the entire night," said another. "You have set the bar high and I wish you and your organization continued success in your efforts," wrote a third. "I wanted to thank you for asking us to be a part of an amazing evening. We hope we made you as proud as we were to be a part of it. We had a splendid time and were honored to be a participant," penned another.

And I can't even begin to tell you the number of unsolicited emails we received that just said, "Thanks, we had a GREAT time!"

Sure, these guests enjoyed the music, the food, the vibe, and all of that. But our silent and live auction was the strong undercurrent running through the night. We trusted you on our set-up, and then trusted you to represent us on the microphone. If the auction had been anything different, many of those compliments wouldn't have been sent.

Sherry, thank you for helping us knockout ALS! As I told you after the event, my team and I got way more than our money's worth from you. If anyone questions your fee, have them call me. We're walking on air here in Arizona.

With My Warmest Regards and Thanks,

Ken Brissa, President & CEO
The ALS Association Arizona Chapter (Scottsdale, AZ)
You are so easy to work with, you accomplished amazing things with very little – and you certainly energized the audience!

I very much appreciate having your summary and suggestions so quickly after the event. I have already shared it with colleagues.

Melissa Houghton, Executive Director
Women in Film & Video (Washington, DC)
The event was a blast and I loved how you interacted with the crowd.

Jonathan Keyserling
Attendee at Montgomery Hospice auction (Rockville, MD)
May I just say that you were terrific!

We just kept commenting on what a wonderful job you were doing, and Sandra – who goes to a million of these things – told me Saturday and again this morning how great you were. You truly were the success of the auction.

Already we have so many wonderful ideas for improving upon this when we do another auction. Thank you for being a part of our first luncheon and auction.

Penelope C. Fletcher, President & CEO
Lupus Foundation of America, Greater Washington Chapter (Washington, DC)
Thank you for what you did!

The entire audience raved about your talents; I could not imagine doing an auction without Red Apple Auctions.

Your support, skills and ideas are an impressive component of your services. You also add a personal touch that can only be described by the people who have worked with you.

Megan Deutsch, Asst. Director of Development & Community Relations
Threshold Services (Silver Spring, MD)
Thank you for coaching us through our first-year (2008) event.

I've heard nothing but positive comments from our 100 guests, and one guest who attends a lot of galas told me that our small auction rivaled some of the top events held here in Palm Beach!

Thanks for taking the time to educate and advise us on the entire process, and how best to maximize our opportunity. You were great, and we couldn't have achieved such success without you!

Kali Dambeck, Director of Development
The Wild Dolphin Project (Jupiter, FL)
Sherry Truhlar/Red Apple Auctions was a great addition to The Musical Theater Center's annual fundraising event this year (2007).

We have been doing auctions (silent & live) for a number of years but this was the first year we used Sherry -- her help, ideas, support and attention to detail was very impressive and her service was far superior to auctioneers we have used in the past.

We had very positive comments about the auctioneer from a number of this year's attendees and the "post-event report" she provided was extremely helpful.

In my opinion – Sherry's "the best!!"

Rex Bickmore, Executive Director
The Musical Theater Center (Rockville, MD)
We've always had a silent auction at our annual fundraiser, but we had some particularly nice donations this year (2008) and our Gala Chair wanted to sell them via a live auction to get the best prices possible.

She had seen Red Apple Auctions work another event and encouraged us to hire the company for our gala.

Because it was the first time for us to work with a benefit auctioneer, we had a number of logistical questions about how the live auction would work and how to incorporate some new ideas into our evening.

We found Sherry was easy to work with and patiently explained what would happen. She even went beyond the terms of our agreement and made an extra trip to our site to meet our CEO and the production crew. That really made a difference to our team.

Carol Kennedy, Director of Special Events
Capital Hospice (Falls Church, VA)
The auction was amazing, and everyone has said it was due primarily to you.

People got caught up in the auction fever and made comments such as, "I was so excited to bid, I didn't care on what — I was just spending money left and right!"

At least a dozen people have already talked to me about wanting to have you back next year. You were the main reason they enjoyed the auction so much.

We raised nearly double what we raised last year with a similar number and type of items.

Eric Carlson, Auction Co-Chair
Colonial 1st Ward Auction Co-Chair (Mount Vernon, VA)
When I agreed to co-chair our annual school auction, I knew I wanted to kick the event up a few notches. For my legacy, I wanted something that stood out and set a precedent for "how to run an auction."

I knew that, despite some initial resistance from people due to prior unsuccessful experiences they'd had in the past, the event would be more successful if I invested in a professional charity auctioneer.

After spending several hours speaking with multiple auction companies, I selected Red Apple Auctions.

Sherry was very enthusiastic and would be there every step of the way helping us plan the event and implement several new ideas to maximize the money raised, which was especially critical in this economy.

I knew I would be getting a high-energy auctioneer, but I also got other benefits I hadn't factored into my initial search.

Because we really re-vamped our program (with Red Apple's help), I appreciated having someone guide us in structuring our activities and giving us methods for getting the entire crowd involved in giving.

We also loved the fabulous floor team they brought because we were really short-staffed on volunteers. They jumped right in and started working!

I have received nothing but absolute praise and excitement regarding the many changes we made with Sherry's help, and those that resisted initially could not have been more pleased with Sherry and her team and the changes we made.

Although I'm not chairing the auction again, I know our 2009 auction chair already spoke with Red Apple to re-book them for the next year!

Brooke Austin, 2008 Auction Co-Chair
St. Andrews Episcopal Academy (Fort Pierce, FL)
I have worked with Sherry Truhlar (and Red Apple Auctions) for almost one year now but, I have really come to know her this past month when she became a key person in my benefit, "Quarter of a Century."

I knew Sherry and her team would be perfect for this particular event. The benefit wasn't your typical sit down dinner so I really needed someone who could be flexible, analyze the event program and hit the ground running. My event was quite unique due to its intricate sequence of events: a champagne reception, couture fashion show, followed by a "green" reception for a very exclusive and intimate group of 150 people.

Our program itinerary called for an almost impromptu special appeal for cash. With Sherry's guidance we raised just about $7,000.00 in ten minutes!

For over two weeks after the event I heard things like, "The event was elegant and appealing. Sherry maintained the positive energy and excitement (after the fashion show) while soliciting the bigger donations. I think due to her appealing presence, what is normally a dreaded part of an event (the fundraising) was actually fun." and "Wow! She was amazing, a true master at work."

I've discovered that "asking for money" can be challenging, but every member of the Red Apple Auctions team does this well. One of the Red Apple Auctions team members handled the raffle at my auction and raised over $500.00 in half an hour!

It is clear to me that the entire team takes pride in mastering all fundraising aspects, but the finesse of their polished auction team during the live portion of an auction is incredible! Trust me! I have seen them all in action!!!

I also appreciate the effort that Red Apple Auctions puts into analyzing their client's needs. Staff and even the owner herself graciously stop in or call to check on me periodically. She requests input and shares her enthusiasm, growth, and any new services/information/literature they have. I have even been surprised with unexpected gifts!!! What a treat!

In any case, I often remark on how blessed I am to have found Sherry. I can honestly say that there is no possible way one could overlook how hard she works to satisfy all of her clients. She has a wealth of knowledge for your event, too – this I'm sure! Her attention to detail and willingness to go above and beyond the call of duty has never ceased to amaze me.

Red Apple Auctions is unlike many other companies that lack the attention to detail, good nature (always friendly, always smiling) and humility that every member of the Red Apple Auctions family exudes. Red Apple Auctions is a motivated, fun loving, likable, and trustworthy company; I proudly recommend them to you.

Aaron L. Machado
Independent planner (Washington, DC)
Our previous Chairs built on the prior events and did a great job. However, we knew we needed to step things up if we wanted our event to grow.

We found Sherry while surfing for ideas online. When we started to check around, and we realized that a couple of our parents had heard her speak several years ago.

We decided to hire her because we wanted fresh ideas.

We didn't really do research on what other auctions offered; what sells better; what do people WANT to buy?

We also enrolled in her 8-week online Blueprint course, which is incredibly in-depth, fabulous, fun and the best money you could spend as an Auction Chair. There were so many great ideas and even photos of other events which gave us even more ideas.

We also had the Red Apple team work our event at the auction.

This year, we had record attendance. Only a handful of items failed to sell. We even had several items selling over their value in the silent auction, and that's happened maybe once in the past.

And when it was all said and done, we had tons of compliments.

After all the pushing and pulling and general resistance over these last few months, guests had fun. What a relief to have that confirmation that we did the right thing. We've had lots of good feedback.

And while we don't have final numbers yet, it appears we may have increased sales by 20%, over and above the fee to Red Apple Auctions.

Phyllis Moroney, Auction Gala Co-Chair 2010
St. Jerome Catholic School (Fort Lauderdale, FL)
Great job Thursday night!

Everyone has been raving about how much nicer it was with you at the helm.

Thanks for making us look so good!
American Business Women's Association, Maryland Capital Chapter (Annapolis, MD)
We've received rave reviews about you!

We also broke the six-figure mark in 2007, grossing just over $123k for a 39% increase.

The committee has met to review our event and the first order of business decided by our committee was to hire you again. What is your availability in April 2008?

Sally Goins, Gala Chair 2007
St. Joseph School (Herndon, VA)
We were committed to using another auctioneer for our school auction, but we recognized the need to have some professional guidance.

In four hours, Red Apple Auctions provided us with many ideas which improved our logistics, boosted our yields, and really impacted our bottom line.

And, our guests loved the changes!

Blair Critch, Auction Chair 2008
Westminster Academy (Fort Lauderdale, FL)
Yesterday's seminar was SO good.

Glenda and I thought that it was excellent. I have spent several hours today updating our auction plan on Google Docs to incorporate many of the things you reminded us that we still have to do, as well as many of the good ideas we hadn't thought of yet.

It was worth many times its cost. Thanks so much.

Kathryn Tidyman
City Choir of Washington (Washington, DC)
I attended your silent auction presentation (complements of AuctionStar) a few days ago here in Houston.

You were definitely worth the vacation day I took to attend!

I really enjoyed meeting you and learned a lot. And thanks for the procurement resources, which I'll be using on the school auctions I'm helping.

Rebecca Pickett, auction volunteer 2011
Wesley Academy (Houston, TX)
Sherry, thanks for all the help. You're a good teacher, and that's coming from me (a law professor).

I can't imagine having done this without all of the sound advice you provided.

Thanks again, and best wishes.

Tony Perez, a volunteer auctioneer
City Choir of Washington (Washington, DC)
I have meant to write to you for almost two months now, to thank you both for the volunteer auctioneer training you provided and for the inaugural Profitable Auction Blueprint class which I took this winter/spring.

Green Hedges School's 2010 Gala~Auction, held on March 12, was a big success. A huge part of that was our volunteer auctioneers, whom you had helped prepare.

Ellen and Jock were fabulous, raising 164% of fair market value for our live auction items (and exceeding the performance of the professional auctioneer used the previous year) and surpassing our goal of $15,000 for "Raise The Paddle."

I know that the preparation you provided made them much more comfortable working the crowd and gave them the confidence they needed to tackle the evening head-on. Their performance got rave reviews.

As for me, I greatly appreciated the Blueprint classes and the Lounge information. I was a first-time auction chair, but felt much savvier and more confident about what we were doing with the knowledge your classes gave me. Many, many thanks!!

Carolyn Kahn-Hall, Assistant to the Director of Development
Green Hedges School (Vienna, VA)
AACC conducted its first live auction last year with Sherry and we took her suggestion to use GreaterGiving "swipe" terminals. The auction made us an additional $40,000 more than in the past. So when GreaterGiving was conducting a seminar in our area and Sherry was a featured speaker, three of us in our office decided to block off a few hours and attend.

Oh my gosh – it was so worth it! My colleagues and I got so many ideas to use, and just listening to Sherry and Laci got us pumped up for the next gala.

If you want to shine at your next auction, it's worth clearing your calendar to hear this information. You'll be glad you did!

Leilani McGrath, Events Coordinator
Anne Arundel Community College (Annapolis, MD)
After 13 years of our school's auctions, this was the first year we hired a professional auctioneer.

On the night of the auction, Sherry was right on target. She made the auction fun for everyone with incomparable enthusiasm, energy and skill.

She is top notch in every way and adapted well to our needs. I know a big part of raising the money we did was due to having her there. She made us look good. We can't thank her enough.

Glenda Ashkin, 2007 Gala Chair
St. Mary's School (Rockville, MD)

This auction was interesting in that we sold virtually identical live auction items to the previous year, but raised 25% more.
It was my second year at the school, and I volunteered to take over the Auction Chair role.

It was an intimidating endeavor, but I knew we would be in great hands under the guidance of Sherry and Red Apple Auctions.

Sherry had been selected by the gala chair the previous year and the positive feedback we received was overwhelming. She grew the event to whole new level, a level of which we could not have achieved without her innovative ideas and advice.

Sherry helped us every step of the way, throughout the year, interpreting for us the science behind what makes an auction successful.

Silent, live, online—Sherry's knowledge of how the event works is multi-faceted.

It's also worth noting that having Sherry back a second time enabled us to build upon what we established the first year. It made my job that much easier—she knew the school, our goals, our families—and therefore our time together was that much more productive.

And she was FABULOUS on auction night!!

Crowds of people came up to me afterward to say what an incredible job she did. She made a huge impression and breathed the kind of vitality into the live auction that only a professional could.

Speaking of, families were concerned when we initially made the move from parent auctioneers to a professional.

Sherry's preparation and presentation are well-organized, but her approach is warm, personal, and makes everyone feel very comfortable. There is no doubt that we made the right decision.

Sherry should be so pleased with, and proud of, what she has created in Red Apple Auctions. I'm so glad our school found her in 2008, and I look forward to using her again, for the third time, this coming year!

Kristen Franklin, Chair 2009 and 2010
Aidan Montessori School (Washington, DC)
Ivymount has been holding successful auctions for many years, and was ready to take the next step.

After considerable debate as to whether we could afford it or even needed it, our school opted to hire – for the first time - a professional benefit auctioneer.

We felt there might be a difference between a benefit auctioneer and the regular auctioneers we'd been using. We weren't disappointed!

In addition to maintaining her professionalism during what became an uncomfortable situation during the live auction, Sherry at Red Apple Auctions was a great partner for us prior to the event, providing advice and insight on solicitation, organization and pricing of auction items that was new to our committee even after years of experience.

The night of the event, Sherry brought a floor team that was simply outstanding as they assisted in the silent and live auction. Most importantly, they handled encouraging the bidders, closing the silent auction categories and spotting during the Live Auction – things we have always had problems teaching volunteers to do well.

They also brought a wonderful, personal touch.

One example -- one of her floor crew endeared herself to one of our special needs students, holding his hand between each sale and high-fiving him after each item sold.

The team did more than what was required of them. We plan on booking Red Apple Auctions much earlier for our next event so we can take advantage of more of the pre-event offerings.

Nicole Carr, Director of Grants and Special Events
The Ivymount School (Rockville, MD)
What a wonderful event you created for us.

If only you had been with us for last year's hospice gala, you would realize what an amazing difference you made.

Thank you for your fabulous ideas, energy, and guidance.

For one evening — a very important evening — our economic woes were nowhere in sight.

You're the best!

Suzanne F., Gala Co-Chair 2009
Montgomery Hospice (Rockville, MD)
I have been meaning to call to thank you for all the tremendous work you and your team did at the Strathmore fundraiser.

My husband and friends all told me that they think that your skills added at least $500 to $1,000 per item, and I agree.

You were fun, informative, flexible, and just a pleasure to work with.

Arlene Hillerson, Auction Chair 2007 (Wine, Women, and Song)
Strathmore Hall Foundation, Inc (North Bethesda, MD)
When we first launched the Washington Nationals Dream Foundation Gala, I wasn't convinced we needed an auctioneer.

With our roots in professional baseball, we have no shortage of free announcers at our disposal. The many outstanding newscasters who cover our games are comfortable onstage, engaging as speakers, and work well with our crowd.

After our initial auction, we were convinced that we had not maximized our earnings and that we needed to engage a professional auctioneer. So we started the process of interviewing auctioneers.

We talked with many of them who simply didn't have the je ne sais quoi needed for this gala.

I've experienced some pretty poor auctioneers at various events over the years. I didn't want our auctioneer to be one of "those guys" who lowered the quality of our evening by trying to beat money out of people.

Our gala is an elegant affair raising money for important projects, and many of our guests have been very generous patrons of our organization. We needed an auctioneer who understood this balance.

When we met Sherry, we found that auctioneer. The auctions have achieved the right tone, and we have appreciated her team's work throughout the night.

This year we're going to be trying some new activities in the silent auction so we've been meeting with her to talk about the pros and cons of our ideas. Sherry has given us the guidance that we needed to ensure a fun event with strong revenues and happy guests.

Marla Tanenbaum, Chair
Washington Nationals Dream Foundation (Washington, DC)
This is a voicemail I received from Karen Bontrager, a volunteer for a gala in Virginia. She found my site while searching for information on benefit auctions. Intrigued by the information she found here, and called me up to let me know how much the training was helping her.

Getting feedback like this absolutely makes my day!
I participated in the auction last weekend and just wanted to give you a big thanks for what you have done.

I'm not on the committee that organized the event or anything, but I just wanted you to know that you made it so much fun! I was blown out of my seat when you auctioned the first item.

You are incredible at getting the audience involved, relaxed, and willing to open their pocket books! I couldn't help but have the biggest smile the entire event.

Hollie Pollan, auction attendee
Colonial 1st Ward Service Auction (Mount Vernon, VA)
On behalf of the many men, women and children who are homeless in our community, we want to thank you and your team for helping to make the 10th Annual Hope for Ail Ball, "Guayaberas & Good Times," such an enormous success.

We were able to raise over $1.4 million dollars to support our mission. This is the most we have ever raised in the annual fundraiser --$337,715 in the live and silent. We thought we had a record-breaking year in 2009, but this surpasses "everyone's expectations.

The advantages of using a professional auctioneer cannot be measured. You know our audience now and your dynamic personality was evident throughout the evening. Even with some last minute "add-ons," you kept everything running so smoothly. You and your team did an outstanding job!

You made my job easy.

Your services were critical to the success of our event and we could not have done this without you and, for that, we are most grateful. Thank you for performing your "magic" again to help us end chronic homelessness in Miami Dade County and create a better future for all who are served by Camillus House.

Marcy Belfi, Director of Special Events
Camillus House (Miami, FL)
I needed some fresh ideas. And yes, some energy.

The week of our event, I woke up and thought to myself, "This just isn't getting any easier. I'm working harder and we're getting less results."

You know the saying: stupid is doing the same thing over and over and expecting different results.

I'd been having a hard time convincing others that change was necessary. But looking at the income projection sheet laid before us five days before the event, it was there in black and white and could no longer be denied. Our attendance numbers were down.

Now I needed a very quick fix if we were going to overcome the presumed inevitable results. I heard, "We'll just do the best we can with what we've got." But that wasn't sitting well with me. I knew that "the best we can" really meant, the same way we always do it.

I'd been following Sherry's blog for over a year. They are so personal I felt like I already knew her. So I picked up the phone and called - I just laid it on the line, "Is there anything I can use from your Bells and Whistles product that we could incorporate right away that will not only cover the cost, but will help me make more money at my event which is this Saturday. I can't purchase it if I can't utilize it right now."

To my delight, Sherry said, "Yes." And with such a short time crunch, she offered to provide me with some very targeted ideas to consider.

I purchased her Bells and Whistles product just two days before our event. She called me the morning after my purchase. I thought, "Wow, a phone consult!"

I was impressed with Sherry's follow-through and assistance on helping me zero in on the ideas that would make an immediate impact at our gala.

Even more impressive was the shot in the arm I felt by her energy. She asked some questions and immediately gave me activities to add to our event that would help us reach our income goals.

Just using two of Sherry's ideas helped us raise $1,825 more at our event. Then of course, there were the how to's and worksheets. We wouldn't have even done the live auction if not for Sherry's section called "Livelier Auctions." It's hard to quantify the results of taking an item off the silent auction table and adding it to the live auction (for the first time). But we're convinced those items sold much better than they would have otherwise.

And what a time saver. I was able to share Sherry's knowledge with others on our team who were going to help me incorporate ideas. Just by sending them the link, they learned how to do it, too. It didn't feel like "the blind leading the blind." Rather our team was on a learning journey together with Sherry as our guide (albeit electronically:)

Better yet, those committee members are excited about change. All those who before had said it wasn't necessary are now looking forward to hearing about other tweaks that would be easy to include. And that's not all. We also convinced others when I was able to show them that our attendance was down, but the average gift per attendee was up, and the overall number of people who contributed that night increased.

My advice for those thinking of buying Bells & Whistles is don't wait! Just buy it. Although we were successful in our last minute efforts, there are so many things that we could have incorporated had we had more time. That's why I am so glad we have this valuable resource to share with our new incoming chairs.

Sherry, you were terrific to help on such short notice, and really focus on making an immediate impact!

Angela M. Williamson, General Manager
Kentucky Symphony Orchestra (Newport, KY)
For several years I've enjoyed reading Sherry Truhlar's Red Apple Auction newsletters. I always gain some "thought starters" and have gleaned many new ideas to use in my events.

So when I read about the Bells & Whistles program, I didn't hesitate to get on board. I had no doubt that I would receive some valuable insights, suggestions and new activities to use.

And although I'm not finished with all the categories yet, I've already made some big decisions about changes for my upcoming event. We will be holding our 16th event this year and I felt things were becoming too predictable and not as much fun as in the past.

The Bells & Whistles experience gives me confidence that we will not be predictable again! One of the main lessons I've learned is the need to have enough interest, excitement and activities to engage all of our attendees – not just the big bidders.

I would highly recommend Bells & Whistles to all event planners – small organizations with few staff and volunteers like mine would especially benefit from Sherry's knowledge, experience and friendly teaching. It's a small investment that will bring big rewards!

Kathy Gautsch
Wings of Hope Foundation (Sanford, FL)
She had so much fun laughing during the live auction, and she ended up being a big winner.

See what can happen when you invite new guests to your auction?
Naples, FL has many fundraisers, but Boomer Erick found this one to be special.
Carol is an enthusiastic supporter of nonprofits. The Community Foundation of Montgomery County named her the 2010 Philanthropist of the Year for her work with more than 90 nonprofits in the county through the foundation she and her late husband, Jim Trawick, started.
Like many of my clients, Catherine is active in her community. In December 2010, Bethesda magazine featured her as one of nine "Women We Admire" !

She regularly supports worthy charities by attending fundraisers, chairing galas, and working in a plethora of other ways both in front of the cameras and behind the scenes. Because of her involvement in so many groups, Catherine has watched Red Apple Auctions perform many times. She recognizes our consistency in quality.
Some fellow Mid-westerners who have attended their share of "old school" auctions share their enthusiasm about the art auction.
At the Greater Reston Arts Center gala, this friendly couple didn't get the artwork they so desperately wanted, but still had fun!
Dan is the Executive Director of Holy Cross Hospital foundation. When the Gala team decided to uplevel their auction, he was referred to Red Apple Auctions.
Darleen has attended "hundreds" of auctions (her best friend is an auctioneer), and she loved how I was "cunning" with the audience. (Is that what she says? With her lovely Tennessee accent, I can't quite make it out...)
Darrell has attended his child's school auction for several years. THIS year, it was better.
 




I asked Demetress if she'd mind saying a few words on video about her auction experience. When she started to speak, I almost dropped the camera. She was so eloquent and poised it was if she'd rehearsed! I secretly wondered if she delivered sermons in church but later learned she's the Executive Director of a hospice organization. No wonder she's so composed.
The following year, she was one of the chairs of this gala.
Hugh had some kind remarks; I saw him at another gala just a few months later.
In New Hampshire, this guest also gave me a great lead on a conference to attend. (Turns out that she used to work in the nonprofit industry.)
I love it when guests are happy.

I love it when clients are happy.

And I love it when DONORS are happy! Like Jan Gilbert. She's a professional artist from New Orleans. She donated an $8000 piece of art to the Global Fairness Initiative art auction. She's seen a lot of art auctions, and here's what she thought about the evening.
Kevin is the CEO of Holy Cross Hospital.
Kerry is an experienced acquisitions chair and she makes a great point: Her hard work goes up in smoke if the auctioneer isn't good.